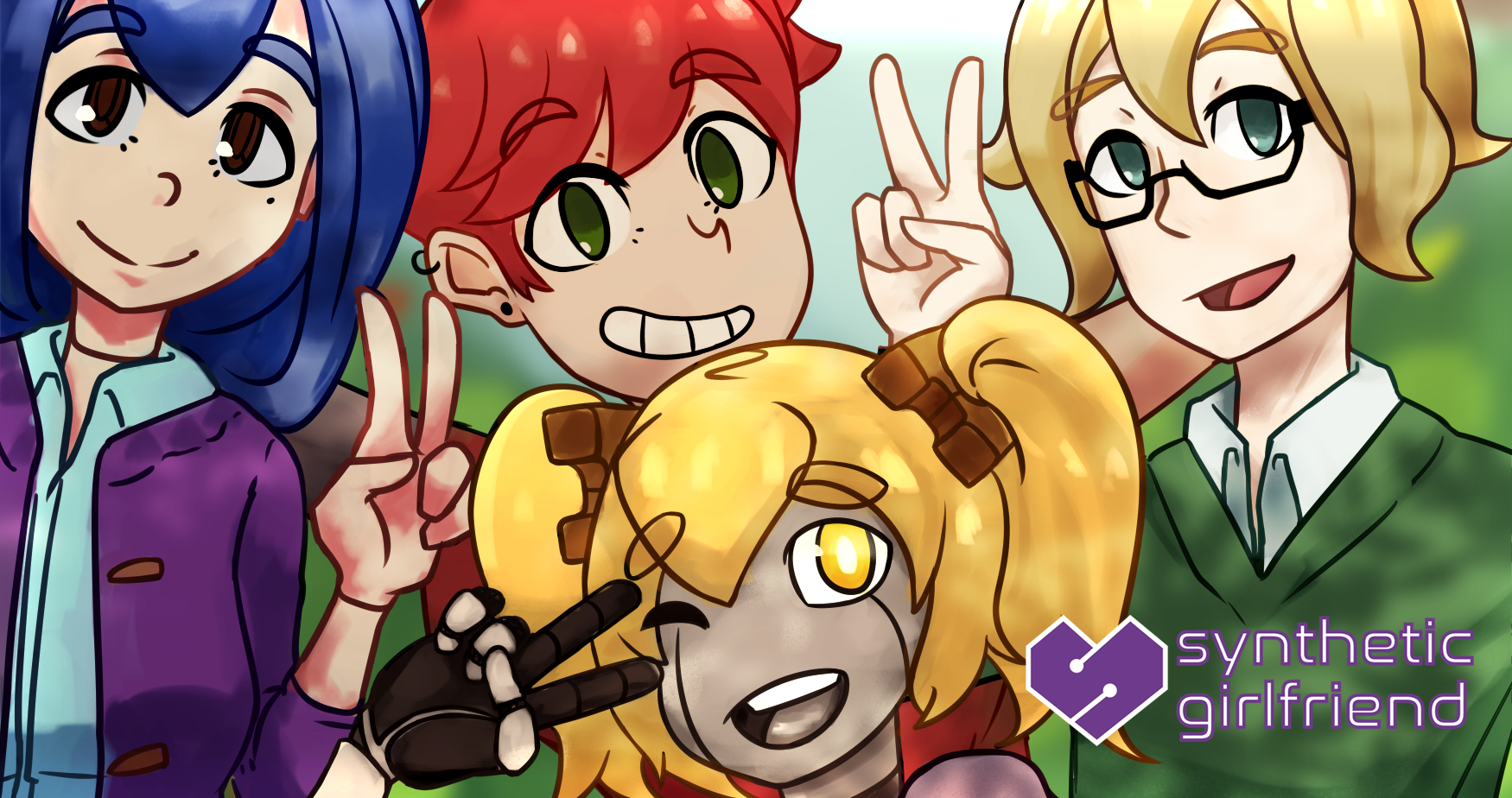 Synthetic Girlfriend [Demo]
DAY THREE UPDATE (or that thing that developers always do)
---
It's time for an update!
Yes, because if I have to be honest with you guys, I released an unfinished a mostly finished demo. This version is closer to what I've envisioned when I set the deadline due the 26th.
Come, sit by the fire, it's time for a story:
Truth is, I was thinking of releasing this demo on the 31th, but since NaNoReNo is looming on the horizon I was worried Synthetic Girlfriend (demo) wouldn't get noticed since tons of free VNs are releasing that day. So, in a swift move of stupidness and marketing logic, I moved the deadline to the 26th! And prepared myself for two weeks of hard work, less sleep, and making my backlog of games and anime bigger. Was it worth it? YES! Because tons of people have played the demo by now! Even with its flaws! Hooray!

Thank you SO MUCH for supporting this little project. I have big plans for it, and I want it to be my first commercial game.
There's so much I want to tell you guys, but let's cut to the chase.
What's new?! :
Well, for starters, Aaila has animations now!
The ending screen is less lame now!
Fixed some sprites not displaying correctly on some scenes!
Fixed some typos!
Added new music!
Added Windows x86 support! (in case someone out there still runs that thing)
What's the same?:
There's still a bug with the first "true" level of the minigame. The RPC System will tell you did good even if you get a failure. And you can't come back to try it again. Try saving the game when you get to that part if you want to beat that level legally!
Mr. Kumar doesn't have any animated sprites. Poor guy.
What's next?!:
Well, I made an Android build to test things out, and I've been throwing it around some friends. Surprisignly, they liked it a lot! They say it's been a lot more comfortable than playing the PC version because they can play in short sessions during work breaks and such. We're all adults and have a busy life, sadly :(
So... probably the next thing is adding new sprites for Mr. Kumar, the security guy and the android recepcionist, and this Android version.
I have to look up how to put the thing on the PlayStore, since I don't want to just upload an .apk here. I think that would be kinda unprofessional? Or wouldn't it maybe? I don't know, let me know in the comments!
ALSO WE HAVE A SUPER COOL DISCORD SERVER
which you can join
following this link:
And that's it for today. Until next time!

- Dems from Hand Crafted Tales.
Files
Synthetic_Girlfriend_PRESS_KIT.zip
7 MB
Mar 26, 2019
Get Synthetic Girlfriend [Demo]